NOT YOUR ORDINARY SUMMER!
Get information here from packing your gear to getting onsite for your camp session.
Summer Camp Activities
Our vast range of programs and activities makes Circle Square Ranch appealing to children and teens. We encourage campers to try new and exciting activities that are challenging and fun. Exploring the beautiful outdoors with friends are a part of each fun-filled day at camp. Through high energy and interactive campfire times, daily cabin devotions and the example of our staff, campers will have the opportunity to discover what the Bible has to say about Jesus and our relationship with God. Campers participate in a variety of instructional and recreational activities based on their preferences.
Archery

Arts & Crafts

Basketball

Bible Studies

Campfires

Canoeing

Frisbee Golf

Hiking Trails

Horse Science (theory & practical)

Horseback Riding: Pleasure Riding
Obstacle Course

Orienteering

Pellet Rifle Range (ages 12+ only)

Sports & Wide Games

Swimming

Theme Meals

Trampolines

Wall Climbing
Please note that the availability of these activities may not be available at all camp sessions.
Camp Information
Detailed information will be sent with confirmation of your camp registration.
The information package includes camp specific drop-off and pick-up times, a packing list, and other important information you will need for your child's week of camp.
If you do not see an answer to your question, check our FAQ page or contact us. We are more than happy to help!
Horsemanship Program
Five Star Horsemanship Program
We offer a Five Star Level Horsemanship program at Circle Square Ranch. Campers will work their way up through levels, similar to earning swimming badges. Once their riding instructor thinks it is safe, the camper will be moved on to the next level. A trail ride is offered every day for every camper.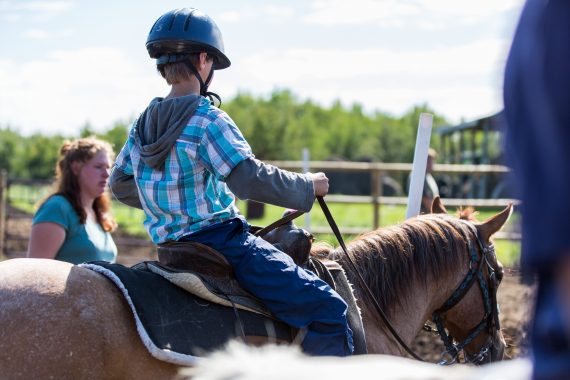 A general overview of the riding levels are as follows:
Campers ride for one hour each day and learn the basics of horseback riding and horse handling. Among other things, they will learn to mount, walk, stop and turn safely and correctly.
Western Town campers begin with 1st Star where they will learn how to ride and control their horse at a walk and trot, while maintaining proper riding position. They will also begin their theory lesson which at this beginner level is basic horse sense (what you should and should not do around horses), the parts of the horse and saddle.
In 2nd Star, campers will learn to groom and tack up their horses, and to control their horse at a lope. They will learn the pole bending pattern for the rodeo on Saturday. Theory knowledge will continue as campers learn horsemanship terms as well as parts of the hoof and the different colors and markings that help us to identify individual horses.
Ranchers will become more comfortable at a lope as they begin to learn how to control different parts of the horse by using their legs, hands, and weight. They will ride bareback and learn the barrel racing pattern. In theory lessons campers will learn how to read a horse's body language and how to properly take care of horses.
These final levels continue to refine how the rider communicates with the horse to control their movement; working on side-passing, two-tracking, simple and flying lead changes. The theory includes the name and purpose of different bits, feeds and feeding, horse health and first aid, good and poor conformation and how to select a horse that will suit your needs as a rider.